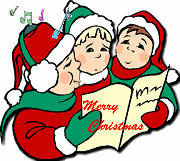 I hope things are going well with you today.
If you like to sing like I do,
You'll enjoy this little Christmas song book.
The first page is the cover to the book. Fold in half and staple songs inside.
Fold the following papers in half with written sides facing you.
Staple folded pages inside the cover.
With God's help, there will more Christmas activities posted soon.
Thank you, for letting me be part of your Christmas celebration.