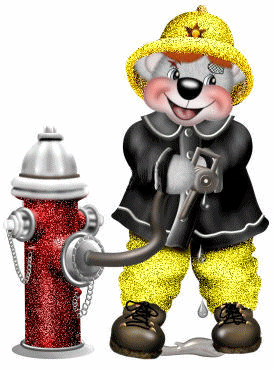 Sometimes we have to add special activities to our regular homeschool curriculum.
One thing that does not need to be neglected is
"Fire Safety"
Too often we take for granted
that our children know about fire safety.
It's a really good idea to go over
fire safety rules every year.
I have added the following links and
activities for your convenience.
My Fire Safety Book
Very Good ... Fire Safety Activity Book
Another Good Activity Book
Story of Smokey the Bear
( Really cute ... Includes printable book and stick puppets)
Smokey the Bear Video
( This Video can also be downloaded to Real Player)
Smokey Coloring Poster
Smokey Bear Partner Certificate (Color)
Smokey Bear Partner Certificate (black)
Fire Safety Tips
Fire Safety : Teachers Book and Worksheets With Answers
Hershey's Fire Safety Book for Children 40 Pages
Sparky's Safety Check List
Worksheets for older Children 6th Grade 45 Pages
VIDEOS:
SPARKY'S FIRE SAFETY
COOKING FIRES "OLDER CHILDREN "
The Busy World of Richard Scarry-Play it Safe - Too Hot!
Sesame Street-The Twiddlebug's Smoke Detector
Cooking Fire Safety: Keep Kids Away from Cooking Areas